The annual online report of the young FinTech & InsurTech startups scene from Germany and Austria that are currently conquering the market is finally here. Free for all members of the FinTech Innovators community.
RealRate found its way into the current publication and is one of the 100 best young Fintech Startups from Germany, Austria and Switzerland. RealRate was selected for its new approach to evaluate companies fully automatically using artificial intelligence. This ensures really fair and independent ratings without any conflict of interest with a maximum of objectivity – A financial crisis like in 2008 with apparently far too good ratings could be avoided in the future.
What is the Fintech Report?
The Fintech Report is a unique overview of 100 startups on over 2500 pages. The contents are the plans, successes and solutions of young FinTech/InsurTech startups. Every year, this report presents a practical overview and details about the trends and newcomers on the scene.
The important topics here are:
Company facts:
Year founded
Market launch date
Current development phase
Funding
Turnover and sales plan
Contact info
Product Insights:
The Innovation
Licenses, certifications, etc.
The special features
The target group(s)
Current countries
Planned countries
Achievements & Traction:
Milestones achieved
Next milestones
Growth Traction
Top (pilot) customers
Strategic Partnerships
Cooperation opportunities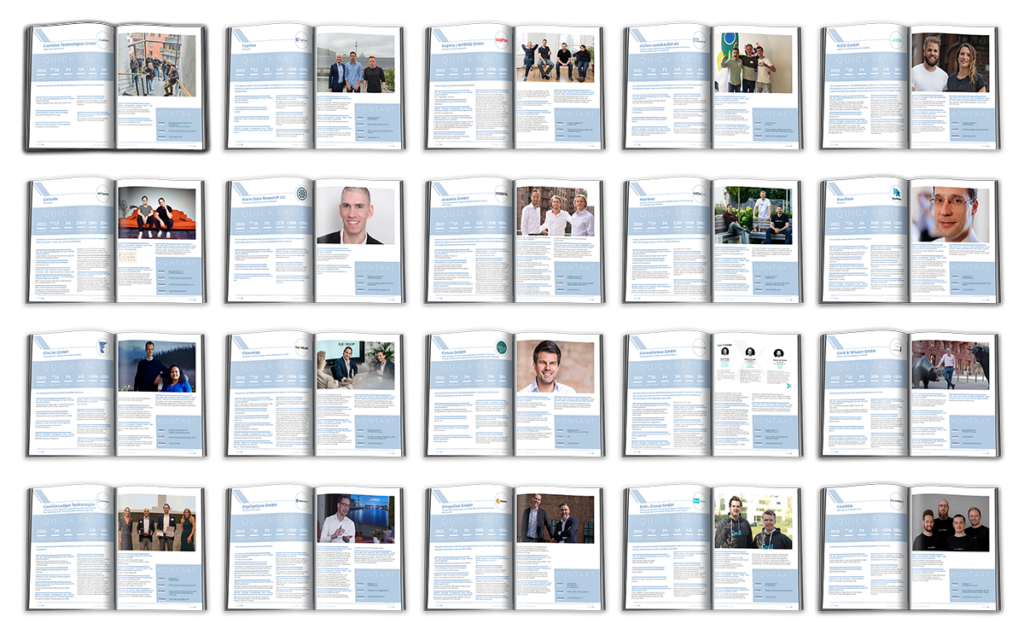 The Fintech Report reaches 11,000 readers in its own community and a further 30,000 readers via its partners. Among them are names like: Newplayersnetwork, t3n, Fintechweek, Elevator-lab, Visa or the Ebner Media Group. The readership is mostly from the FinTech/InsurTech, and innovation ecosystem. The largest groups among them are: FinTech/InsurTech founders, aspiring founders and employees in FinTechs/InsurTechs, representatives of finance/insurance corporates, FinTech/InsurTech service providers, startup mentors and support organizations.
In addition, readers are numerous journalists, bloggers, research institutions and representatives of business and location organizations.
Who are FinTech Innovators?
It is an initiative that connects the most exciting, young FinTech/InsurTech companies within the ecosystem every year. FinTech can help the founders whose startups are featured in the report by giving them visibility for their nascent success. Completely free of charge for the founders.
The FinTech Report has also been developed in consultation with experts in the financial industry, investor scene and FinTech support community to also help these stakeholders connect with the founder of the most interesting FinTech/InsurTech startups.
Save report now for free
Source: FinTech Innovators